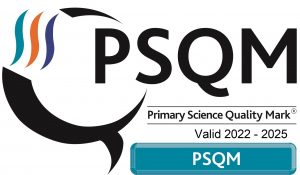 Science at All Saints has been awarded the prestigious Primary Science Quality Mark! Assessors found that there was a clear vision for Science, children had a genuine enthusiasm for the subject and that there were clear and varied opportunities for pupils to build their science capital.
The Primary School Quality Mark programme ensures effective leadership of science, enables schools to work together to share good practice and is supported by professional development led by local experts. It encourages teacher autonomy and innovation while at the same time offering a clear framework for development in science subject leadership, teaching and learning. Schools that achieve PSQM demonstrate commitment and expertise in science leadership, teaching and learning.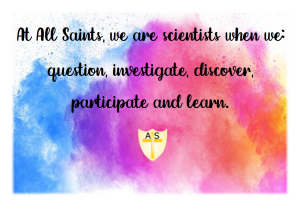 Science is a core subject at All Saints and is taught through a mixture of cross-curricular topic work and discrete Science lessons to deliver the 2014 National Curriculum Programme of Study for Science in KS1 and KS2. In Class 1 we support children in the "Understanding World" area of learning and development (Statutory Framework for EYFS).
As reflected in our Science principles, we know that children understand science by doing science. Our enquiry approach enables our pupils to develop curiosity, enjoyment, skills and a growing understanding of scientific knowledge which they can apply to the real world.
We feel it is vitally important to promote positive attitudes to science through a variety of teaching and learning styles whilst developing and embedding scientific enquiry, 'Working Scientifically' skills alongside knowledge and content based learning.
Please see our long-term class plans for more details and specific year / termly topics.